After almost a week in Palma the boat is in the water. The good news is she floats and the boatbuilding stuff has come off the boat. The hard work over then? Well… yes and no, hopefully when we go sailing tomorrow we don't brake anything so in that respect the hard work is over. However now the stuff that makes a boat go faster: rig tune, sails, trim and boathandling. I'm expecting a long day and there are only a couple of days of practice before the TP52 worlds start. Looking on the bright side I am alowed another late start (7.30hr) after an early evening (18.00hr).
So what is our plan? Well Henri Loyd – Weapon of Choice will leave the dock at a sensible time to hoist most of the sails and see if they indeed fit. It is then time for a visit to the Real Club Nautico de Palma (RCNP) to see our berth for the week and get ome lunch and with a couple extra bodies we will be off for an afternoon of practicing.
Looking forward to it and here are a couple of shots from the boat and Puerto Portals boat prep area: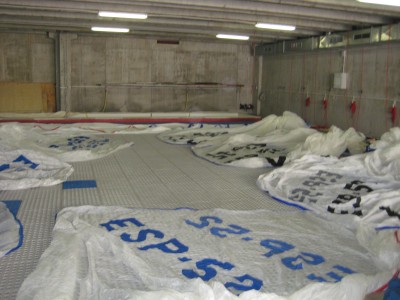 (other peoples' containers; spinnakers in the loft; boat afloat in the sunset)
Ciao!
ps. More info here