Well, that was odd. When I woke up this morning it was absolutely dumping. Within minutes Soton started to look pretty white and to be honest I didn't look forward to going out in those conditions. But my lift showed up so it was off to Hamble for a second day of racing on a X-41. On the way conditions became worse and a serious layer of snow had fallen in Hamble when we arrived. Docks, boats and cars all had a serious layer of snow for what only had been about an hour of snow falling out the sky.
Shortly after parking we heard the race committee on the radio telling that all racing for the day was cancelled due to the conditions. For the guys from ROARK this was a shame as they had made the trip from Holland for just this weekend's racing (and they did well on the first day). But it was cold and miserable outside so a quick photo and then back in the car to Soton.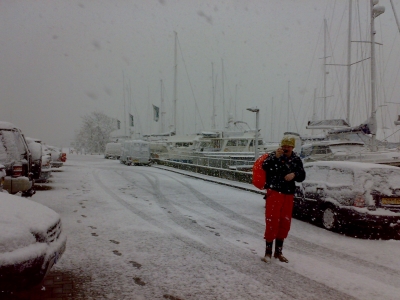 Otherwise it was a quiet week, didn't do much other than recharging the batteries. Went to Hamble and Cowes because the weather was very nice and just strolled along. Got a busy week ahead now (as it is the final week of the break) but really looking forward to getting on with my course again (I still think it's strange that I'm thinking that but it's nice though).
Oh and about last week's racing… Ehhm there was hardly any wind to start with… Then we were over early (as was most of the fleet), went up the wrong side of the beat because the seabreeze was building earlier and had quite a big gap in front of us to the rest of our fleet. Then downwind we did okay but the decision by Jochem to keep the spinnaker flying proved important to do well last week. We closed the gap and overtook plenty of boats at the downwind mark by keeping the spi up. We then had a bit of luck and some great cooperation between the trimmers (Tim, Tom and Al) and Jochem and managed to finish second in our class. The wind never did show up properly, but sailing with a bunch of new guys taught me some more lessons about it all.
That's it from me and with the sun back and the snow gone I think it is a good time to do some more work on my maths assignment (or I could just keep reading the new seahorse…)
Ciao!