Well first two exams here in Soton are history, 'only' three left. I can't say it's been easy, practising old exams and doing one is very different and then two hours is really short. On the other hand most of my classmates have had the same problem; just not enough time to get everything down you know about the questions asked. So scores are not going to be 100% but both went pretty well.
When I made my planning for revisioning and two weeks of exams I scheduled Tuesday afternoon off and wow, did I needed that. I'd been studying for two weeks of 10 hour days (that's 9am start, 23pm finish and if you do the maths you see I take the breaks into account) and with almost an entire day off… WOW I used it to do very little and do things like checking out the performance of the yachts racing in Key West Race Week. My friend on a Swan42 has been ill, but the team performed well with a third place as the best result of their day in the CS42-class. The Dutch Farr40 Mean Machine is sailing pretty well again and is second overall after three races (including a bullit). Monday and Wednesday saw racing being cancelled, but Thursday should be good again and I wish Koen (CS42), Sander (Farr40) and Fred (Melges32 I think) a great day and the best of luck!
The result of doing very little… This morning when I started I absolutely was flying and at around 5-ish was done for the day (in other words done what I had planned a couple of weeks ago). Had a nice dinner tonight before heading down to the pub to watch the Chelsea game (Carling Cup). Good fun going out with my house, but the match was boring.
For tomorrow there is a change of plans in my planning, or more an addition. With a couple of fellow shippies we've booked a group study room to work together in getting answers to several questions and through that way try and help each other out. Should be well good fun as well as good for revisions.
Oh and whilst I was doing nothing I bought a new pair of shoes. The label says they're stylish and flash, all I know is they're the right colour and (being Dutch the most important thing) I got a great deal on them: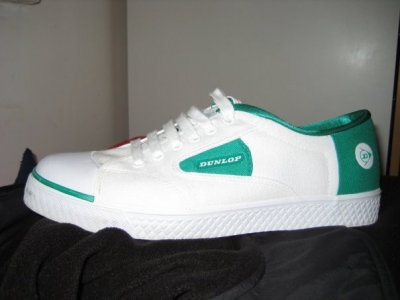 That's it for now, all is well. Life is good, though this revisioning thing is not the most pleasant and having al kinds of people around you finishing all of their exams already is maybe slightly demotivating. Then again their degree isn't half as cool as mine…
Ciao!!!