Ever since exams finished, life has been a bit crazy:
After visiting the Netherlands I had a few days to prepare for a presentation to RINA and BAe Systems based on my Bachelor Thesis (as well as four other ones). This worked out to be great preparation for presenting at Innov'Sail. Following this there was the stress of moving house, results, a bit of sailing before the real deal at Innov'Sail.
In short:
– All my stuff is in the new house
– Results went well (Thesis was best of the year!)
– Farr40 in Porto Cervo was a great experience (but improvements to be made) [promise I didn't know the shot was taken]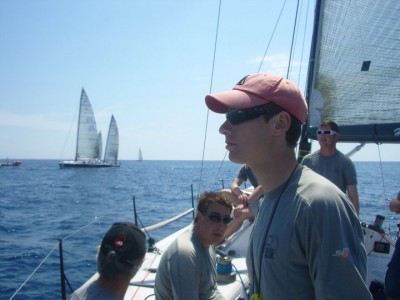 – First 4 hours in the new house were too short (though good times to catch up with people back in So'ton
)
– Innov'Sail was a very interesting conference
– Mr. Andy Claughton gave me a compliment on my presentation (and defended it during questions!)
– Awesome dinner organised by RINA as part of the conference (and the two 3-course lunches were not to bad either) [photo of the Southampton University student group present]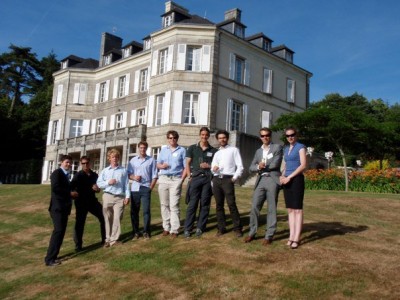 – Been on board the new JP54 (not allowed to take photos), seen the Groupama fleet (VO70, Extreme40, ORMA60 and G-Class including the new shorter rig and bike laminated to the deck instead of a pedestal), numerous ORMA60s, some Multi50s, couple of IMOCA60s, Class40s, Figaros and minis.
– Also had a guided tour of Banque Populaire V (more than 900nm in 24hrs)!
[scared by the speed (potential)]
[the size of the boat…]
– Visited the Tour Voile in Dieppe
– Dropped the car off in Holland safely
all in all pretty damn successful couple of weeks and brilliant fun as well. Time for a few days of catching up on sleep before the 90th KaagWeek and 100 year anniversary of the Royal Yacht Club "The Kaag".
Before I finish some funny Football related experiences of the past weeks:
– Vasco Vascotto asking at the skippers briefing for a minute of silence after Italy gets knocked out
– Race committee replying by allowing Italian teams to fly a black flag to mourn the loss
– Spending 10 days with a Brazilian guy and the moment he leaves Brazil looses 2-1 to the men in Oranje!
Life is good!
Ciao!!!