But the story begins about 24 hours earlier. My Italian friends had invited me to join them for the game against Scotland and even they agreed that the match was boring to watch and the victory was stolen. Not that it bothered them in any way, because they qualified for Euro 2008 and that's what counted. Than it was time for a Swiss-Italian pasta meal, before going to a house party with just international students. The biggest problem with those parties is the diversity of people and as a result all stereotypes can be thrown out the window… Didn't make it too late though, I was looking forward to a nice day of sailing on Sunday. So around 1:30 I went home and had about 5 hours of sleep to look forward to.
And that brings me to Sunday: Got up at 6.45 (am that is), was in time at the ferry. We got the lovely Sanguma rigged and ready and we were almost at the usual starting area when we got confirmed there would not be any racing today. The wind wasn't that bad (occasional above 20 knots of breeze and we have already raced in 30+ this series), but the result still was the same: turn around and do something else…
So when we arrived back in Cowes, we cleaned up the boat (fast, because it was still raining) and went for breakfast at Eegon's. With the menu challenging us, most of the crew went for Eegon's Breakfast Bonanza in our search for recognition and a certificate. The biggest plate of English breakfast per person soon occupied the table and the challenge was on! At least I don't have to have lunch or dinner tonight but I did got this: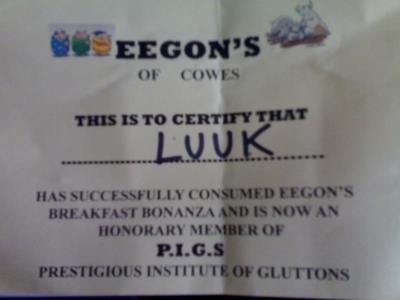 (sorry for the quality, don't have a scanner readily available here)
Anyway, after breakfast it was time to head for home and still in my foul weather gear I did the bike ride back up the hill. It is nice and warm, much more pleasant than outside:


Anyway, I'll better make good use of the time I've got today and do some more work.
Ciao!
(yeah yeah, I know I should get higher quality photos… but everything on this side of the pond is so much more expensive)